Brailovska Оlexandra is 13 years old.
Twelve years ago, this girl contracted cancer – neuroblastoma.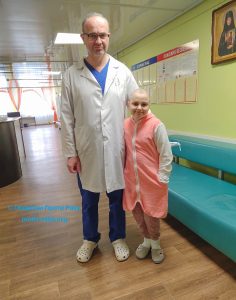 She is the only one in the world who survived 5 relapses of this disease.
Unfortunately, her body weakened after many years of struggle for life.
Chemotherapy no longer helps as well as before. The girl can not stand large doses of drugs. Despite everything, Оlexandra is cheerful and always helps everyone.
She leads a creative group in the children's oncology department. The girl always helps and gives good advice to other children. And she really wants to live.
Оlexandra can be saved. In Europe and America, such children are treated with immunotherapy with Dinutuximab-beta. There are no such drugs in Ukraine and the state has refused to pay for Oleksandra's treatment abroad.
The girl's only hope is people who are not indifferent and a doctor who has been fighting for her life for 12 years and agrees to provide, for the first time in Ukraine, the necessary treatment for Оlexandra.
To start immunotherapy, you need 5 vials of Dinutuximab-beta, which cost UAH 1,985,704.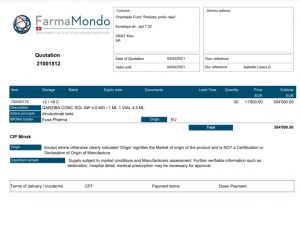 To date, UAH 1,032,046 has been collected. Another UAH 953,654 is needed.
Now Оlexandra suffers from severe pain and fever.
It is very difficult for her, but she continues to fight the disease and help other children. Kobys Vadym – the girl's doctor, sincerely believes that the little patient will be cured.
He consulted with foreign doctors, who confirmed that immunotherapy with Dinutuximab-beta is necessary for Brailovska Оlexandra.
Kobys Vadim asks all good people to help raise funds for the first course of immunotherapy. The girl should receive medication as soon as possible. The doctor asks to believe in the power of Оlexandra and help her overcome the disease. Оlexandra really wants to live.
For transfer in US dollars (USD):
BENEFICIARY: Charitable Fund «Pediatry protiv raka»
ACCOUNT: UA463052990000026006020112704
BANK OF BENEFICIARY: JSC CB "PRIVATBANK", 1D HRUSHEVSKOHO STR., KYIV, 01001, UKRAINE.
SWIFT CODE: PBANUA2X.
INTERMEDIARY BANK: JP MORGAN CHASE BANK, New York, USA,
SWIFT CODE: CHASUS33.
CORRESPONDENT ACCOUNT: 0011000080
DETAILES OF PAYMENT: donation
For conversion into Euro (EUR):
BENEFICIARY: Charitable Fund «Pediatry protiv raka»
ACCOUNT: UA633052990000026000020110177
BANK OF BENEFICIARY: JSC CB "PRIVATBANK", 1D HRUSHEVSKOHO STR., KYIV, 01001, UKRAINE
SWIFT CODE: PBANUA2X.
INTERMEDIARY BANK: JP MORGAN AG, FRANKFURT, GERMANY,
SWIFT CODE: CHASDEFX.
CORRESPONDENT ACCOUNT: 6231605145
DETAILES OF PAYMENT: donation
For more information please call: +380 73 175 38 39
30.04.21