Brailovska Оlexandra is 14 years old.
Thirteen years ago, this girl contracted cancer – neuroblastoma.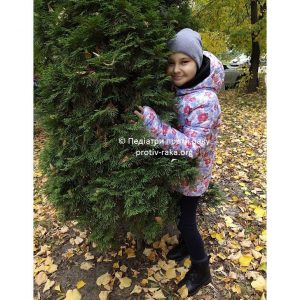 Sashenka has been treated for cancer for 12 years. She is the only one in the world who survived the 5th recurrence of neuroblastoma. All these 12 years she fought for her life with all her might and not in vain – during this time they invented and introduced into treatment protocols a new drug – Karziba (Dinutuximab Beta), which can once and for all cure children with a diagnosis like Sasha. Unfortunately, there are no necessary medicines in Ukraine, in addition, they are still not registered in our country and the state denied the girl treatment abroad…
But thanks to caring people, funds were raised for 5 vials and to pay the state duty, the much-needed drug (state duty is, unfortunately, as much as 20% of the cost of the drug. Look at the state! These children are our future and they must live!).
Sashenka has already passed 2 courses with a new drug, for the first time in Ukraine! Initially, we used 3 vials and thanks to them – the NSE rate has more than halved! This indicator is very important in neuroblastoma and clearly shows how the disease responds to treatment. Now it is clear – the new drugs are working and can save Sasha, but you need to spend all the necessary 5 courses of treatment to kill the disease completely.
In order not to lose precious time – the second course of immunotherapy was performed with 2 vials of Carziba, because the 3rd vial was simply not there. A week later, Sasha will be tested again for NSE, and now she is undergoing chemotherapy to gain time to raise money for the next course of immunotherapy.
In less than a month you need 3 more bottles of Carziba for Sasha. In general, there should be – 5 courses (passed – 2) and they are repeated in a month.
One bottle of Carziba costs 11,800 euros
3 vials of the drug + 20% state duty on customs clearance – UAH 1,299,888
So far, UAH 93,420 has been collected
It is necessary to collect – UAH 1,206,468
Sashenka sincerely believes and hopes that the funds for the new treatment will be raised and she will finally be able to recover! She dreams that her cure will be an example for our state – and they will understand that such children need to be saved. For 12 years Sasha got acquainted with different children in the children's department, she helped and always supported many. The girls had friends with the same diagnosis and, unfortunately, she knows what it's like to lose a friend… She knows how hard it was for them and still wants none of the children to experience it again. That's why she holds on and fights with all her might – to prove that if there is medicine – CHILDREN NEED TO BE SAVED! If a child understands this, we adults must understand, and in no case can we afford to lower our hands and look away, we must fight for these children!
Please help save Sasha, help make her dream come true so that children with such a diagnosis do not die! We only have a month. Every help is very important now!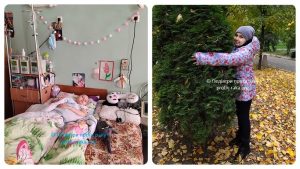 For transfer in US dollars (USD):
BENEFICIARY: Charitable Fund «Pediatry protiv raka»
ACCOUNT: UA463052990000026006020112704
BANK OF BENEFICIARY: JSC CB "PRIVATBANK", 1D HRUSHEVSKOHO STR., KYIV, 01001, UKRAINE.
SWIFT CODE: PBANUA2X.
INTERMEDIARY BANK: JP MORGAN CHASE BANK, New York, USA,
SWIFT CODE: CHASUS33.
CORRESPONDENT ACCOUNT: 0011000080
DETAILES OF PAYMENT: donation
For conversion into Euro (EUR):
BENEFICIARY: Charitable Fund «Pediatry protiv raka»
ACCOUNT: UA633052990000026000020110177
BANK OF BENEFICIARY: JSC CB "PRIVATBANK", 1D HRUSHEVSKOHO STR., KYIV, 01001, UKRAINE
SWIFT CODE: PBANUA2X.
INTERMEDIARY BANK: JP MORGAN AG, FRANKFURT, GERMANY,
SWIFT CODE: CHASDEFX.
CORRESPONDENT ACCOUNT: 6231605145
DETAILES OF PAYMENT: donation
For more information please call: +380 73 175 38 39
03.11.21