9 years this girl is being treated for oncological disease and remains a cheerful child.
This strong girl is not for nothing  fighting with the disease! Finally, Dinutiximab appeared. The drug will help Sasha overcome the oncological disease forever.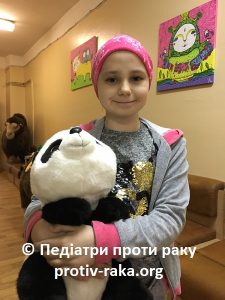 Dinutiximab works like this:
The basis of the drug – monoclonal antibodies that attach to the tumor cells damaging and denoting them for the immune system of the patient. After that, the immunity is purposefully actively attacking and destroying the tumor. The drug destroys all cells of the neuroblastoma. Next –  the life without relapse – a happy life without a cancer.
The cost of 1 bottle of Dinutiximab (20 mg) is about 8 thousand euros.
For 1 course of treatment is required from 1 to 5 vials – depends  how the patient tolerates the drug. Maybe  to  be 5 courses of treatment with this drug.
1 course costs as much as possible – 40 thousand euros.
Thanks to Brailovska Sasha, the newest drug can cost much less! This  girl is fully suitable for the treatment with Dinutiximab because she has a small amount of tumor cells and she is chemotherapy-sensitive. And that is why  the effectiveness of this drug is significantly increased in this case. And we will be  to show it to the whole world, which will lead to product certification in many countries, increased demand in the world and the development of generics (duplicates), which will significantly reduce the cost of Dinutiximab – a life-saving medicine.
Share this information – become a part of a successful fight against a cancer.
For transfer in US dollars (USD):
BENEFICIARY: Charitable Fund «Pediatry protiv raka»
ACCOUNT: UA463052990000026006020112704
BANK OF BENEFICIARY: JSC CB "PRIVATBANK", 1D HRUSHEVSKOHO STR., KYIV, 01001, UKRAINE.
SWIFT CODE: PBANUA2X.
INTERMEDIARY BANK: JP MORGAN CHASE BANK, New York, USA,
SWIFT CODE: CHASUS33.
CORRESPONDENT ACCOUNT: 0011000080
DETAILES OF PAYMENT: donation
For conversion into Euro (EUR):
BENEFICIARY: Charitable Fund «Pediatry protiv raka»
ACCOUNT: UA633052990000026000020110177
BANK OF BENEFICIARY: JSC CB "PRIVATBANK", 1D HRUSHEVSKOHO STR., KYIV, 01001, UKRAINE
SWIFT CODE: PBANUA2X.
INTERMEDIARY BANK: JP MORGAN AG, FRANKFURT, GERMANY,
SWIFT CODE: CHASDEFX.
CORRESPONDENT ACCOUNT: 6231605145
DETAILES OF PAYMENT: donation
For more information please call: +38063 64 12345
04.05.2018