Little Aleksandra's dream of visiting Paris has come true. But the biggest dream of the little costs 200,000 Euro. This is the cost of treament with Dinutuximab, which the doctors need to save her life.
To date, UAH 224,019 has been collected. Aleksandra believes in miracles, and they are happening.
Dear benefactors, please help little Aleksandra become the absolute winner in the terrible struggle with the insidious disease and thus fulfill the most important dream of her life!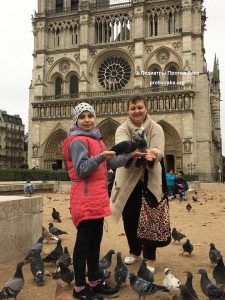 For transfer in US dollars (USD):
BENEFICIARY: Charitable Fund «Pediatry protiv raka»
ACCOUNT: UA463052990000026006020112704
BANK OF BENEFICIARY: JSC CB "PRIVATBANK", 1D HRUSHEVSKOHO STR., KYIV, 01001, UKRAINE.
SWIFT CODE: PBANUA2X.
INTERMEDIARY BANK: JP MORGAN CHASE BANK, New York, USA,
SWIFT CODE: CHASUS33.
CORRESPONDENT ACCOUNT: 0011000080
DETAILES OF PAYMENT: donation
For conversion into Euro (EUR):
BENEFICIARY: Charitable Fund «Pediatry protiv raka»
ACCOUNT: UA633052990000026000020110177
BANK OF BENEFICIARY: JSC CB "PRIVATBANK", 1D HRUSHEVSKOHO STR., KYIV, 01001, UKRAINE
SWIFT CODE: PBANUA2X.
INTERMEDIARY BANK: JP MORGAN AG, FRANKFURT, GERMANY,
SWIFT CODE: CHASDEFX.
CORRESPONDENT ACCOUNT: 6231605145
DETAILES OF PAYMENT: donation
For more information please call: +38063 64 12345